Products High Manganese Steel Plate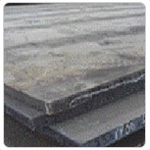 High Manganese Steel Plates - are fully austenitic, quench anneled, non magnetic work exceptionally high level of wear resistance when subject to work-hardening by shock or high pressure in service.Available sizes for the MN13 steel plate are width up to 2,135mm, maximum length at 6,000mm and the thickness of 6mm to 40mm.
Advantage of high Manganese Steel Plate
Abrasion Resistance
Severe wear on the surface has a work - hardening effect on the austenitic structure of this steel which leads to an increase in hardness from 200HB up to in service hardness at least 500 Brinell. The soft inner layer is superior to process such as cutting, machining and etc, because it maintains a ductility not to be cracked.
Chemical Composition

Mechanical Composition
APPLICATION
High manganese is excellent and economical steel plate for machinery manufacturing which is required high-impact resistant and high-pressure facilities.